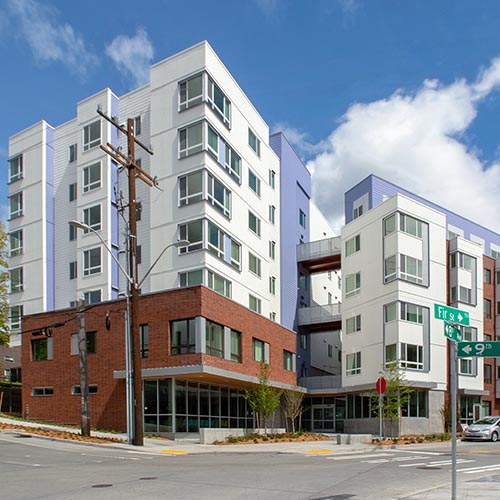 Yesler Terrace Phase III – Red Cedar
Red Cedar is the second of three apartment projects that we are doing as a part of the Yesler Terrace redevelopment for the Seattle Housing Authority (SHA). We performed the full-mechanical scope for the job. For the plumbing scope, we provided the solar preheat system. For the piping scope, we provided all the piping for the refrigeration and set up significant amounts of equipment. For the HVAC scope, we provided a variable refrigerant flow (VRF) system and in-unit energy recovery vents (ERVs).
Facts:
General Contractor: Andersen Construction
Plumbing
Mechanical
New Construction
More About the Project:
Coordination
We were very in-tune with the client's needs in how we coordinated in the wood structure (which can be a challenge). We identified many spaces where there was going to be constraints as far as conflicts with plumbing, HVAC, and structural members. We were proactive in addressing all of those issues ahead of time, so they were not issues when we got to the field. We worked with the rest of the design team to come up with resolutions to those problems early on. Our constructability reviews resulted in saving time on the project.
Exteriors
When we were coordinating with the general contractor, we gave special consideration to the vent terminations on the outside of the building. If you pay attention to some buildings, you can see visually unappealing vent terminations. We did plenty of work upfront to ensure that the entire project team was pleased with the type of terminations we were going to install. If something needed to change, we were going to change it in a timely matter. We also had to coordinate the framing and the overall look of the hoods.
Solar Systems
Solar systems preheat the domestic water, so you do not have as much demand on the central boiler system. We installed about 54 panels on the roof of the building where we had to contend with the wind. The rooftop installation required extra planning to ensure a safe installation.
Booster Pump and Just-In-Time Deliveries
Red Cedar required a booster pump, and we installed it in the water entry room. The booster pump was brought out on a skid, and we hoisted it to the building. We worked with Columbia Hydronics, so they would know the specific date we needed the booster pump on site, so the system would not sit around and take up valuable space.